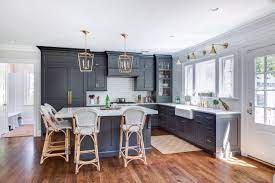 Different Kitchen Layout Ideas
When considering a kitchen remodel, you may be unsure of how to layout your space. A few different kitchen layout ideas are listed below. Each of these will work well with different types of space. However, a single style may not work well with every situation. You may find that your kitchen isn't large enough for the type of layout you want. If so, then consider a compact design instead. This style will allow for plenty of kitchen storage while leaving the middle open to allow for a walkway or dining area.
An assembly-line kitchen layout is best suited for large kitchens, correctional facilities, cafeterias, and restaurants with a limited menu and many of the same items. This style places all of the kitchen equipment in one line and allows cooks to send food down the line. Behind the assembly line is a storage/receiving area and cleaning area. A small corner at the center allows for a counter for serving food.
Another popular kitchen layout is the horseshoe. This design is compact and works well with a large space. An island is a great addition, as it adds another functional "third wall" to the kitchen. A small kitchen island can become a place for family meals, coffee dates, or even schoolwork or craft projects. While a horseshoe kitchen layout may not work for every space, it allows two cooks to work simultaneously.
One of the most important aspects of designing a kitchen is its layout. Although most homes have an open plan kitchen, a small dining area is also an excellent option. If your family is larger, you may want to expand the kitchen area to allow for more storage and counter space. Small kitchens can benefit from light colors and an open layout. If you're planning a kitchen remodel, take the time to consider the different kitchen layout ideas available.
If your kitchen is smaller, you may want to consider an L-shaped layout. An L-shaped layout is best for small kitchens, and can work well in larger spaces as well. Similarly, a U-shaped layout can work well in a larger space. If you're a big cook, you can incorporate a peninsula or dining room into the space. The kitchen triangle rule works well with these layouts. If you are unsure about the best layout for your kitchen, check out our kitchen layout tips.
A single-wall kitchen layout is another popular option. This style is ideal for small spaces, such as studio apartments or a converted living space. It allows for more efficient kitchen activity but limits the space. The single-wall kitchen layout has the disadvantage of requiring you to walk back and forth in the kitchen. However, if you have the space, it may work well for you. The most important thing to remember when planning a kitchen is to have a design that suits your lifestyle.
You should be careful to choose the right kitchen island for your space. A large island will not only be inconvenient but will also take up too much floor space. Also, a small island may block your view and obstruct your vision of your kitchen. If you have a large kitchen, you can consider an L-shaped layout. It is a great choice for large kitchens, but it's not the best option if you have a small space.