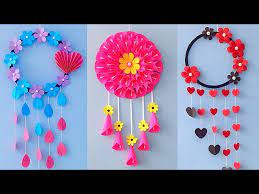 How to Create a Wall Hanging
Wall hangings are like the bad boys of wall decor, they refuse to be boxed in by frames and have a cool enviable look. They are great for spaces with minimal decorating or bare walls.
Gather some waste material and create a beautiful woven wall hanging using yarn. Use jute twine or yarn in different colors for an eye-catching look.
Waste Materials
Wall hangings are a fun way to show off your creativity and add a personal touch to any room. They can be handcrafted from paper, thread, recycled materials, or a combination of different mediums. The possibilities are endless, ranging from handcrafted paper quilling designs to macrame masterpieces. These projects are also a great way to be more environmentally responsible, as they allow you to recycle and reuse materials that would otherwise be waste.
For example, if you have old soda bottles lying around, cut out the top portion and make them into pots. Fill them with soil and plant your favorite little plants. Hang them together using strings and you have a green wall hanging to be hung on your balcony/ garden.
Another easy DIY project is a beautiful woven wall hanging. This piece is made from a variety of cotton and wool fibers, with neutral tones that will fit in most home decors. It comes with a wooden dowel for hanging and is easily mountable on any wall.
Another creative idea is to use natural elements in your wall hangings, like rocks, shells, or corals. You can even use the shells you've collected during your vacations and decorate your walls with them. This is a perfect project to try with your kids and help them enhance their creativity as well as learn the importance of reusing waste material.
Paper
Creating a paper wall hanging is a creative and fun way to deck up your house. All you need are some basic materials and a little time to get creative. You can add a personal touch to your paper wall hang by using photos or other elements from your daily life. It is important to consider the colour of your wall and the colours of the paper elements for a harmonious look.
The easiest and most convenient material to use for a paper wall hanging is plain coloured paper. You can also try out different designs and shapes of paper to make your own unique design. You can even try your hand at origami, which is a popular Japanese art form, to give your designs some interesting 3D elements.
One of the most attractive ways to deck up a wall with paper is to use a combination of tassels and strings. You can create a colourful mesh of circular tassels with rectangular pieces of paper hanging from them. This will make your wall look very elegant and stylish. You can even add a photo frame to the mesh for an extra special effect.
Another great idea for a paper wall hanging is to hang colourful hearts on the wall. You can make these with the help of a paper cutter or fringe tool that will allow you to cut uniform strips from sheets of cardstock. You can also try other geometric shapes, such as circles, for a more original look.
Fabric
Wall hangings can add a lot of personality and drama to your home decor. Many people like to use fabric, yarn or other types of material to create these decorative art pieces. They are often used as a replacement for traditional tapestries and can be very colorful or simple in design. Using fabric for your wall art can also help you save money and protect your walls from damage.
The process for making a fabric wall hanging is quite easy and similar to hanging wallpaper. The key is to choose the right type of fabric for your project, which is usually based on the style and color scheme you want to achieve. For example, if you choose to make a macrame wall hanging, you will need various lengths of cords or ropes in different colors to create patterns and designs. If you are a beginner, it is recommended that you start with a plain or neutral colored fabric so that you can focus on the knotting process without worrying about the color.
To make a woven wall hanging, you will need a few items, including yarn in at least two different colors, a cardboard rectangle and a wooden dowel. You will also need a pair of scissors and a ruler. You should cut the yarn into shorter strips, which should roughly match each other but don't need to be exact.
Bangles
Bangles are a very useful item in our house that we can use to make beautiful and unique decorative wall hangings. They can also be used to give a unique look to the balconies, window sides and other areas of our house.
To make this wall hanging, first cut a cardboard piece that is about 2cms wide. Then, mark a center point on it with a pen or pencil and then hold that marked bangle over the flame for a minute. This will heat up the bangle and will help in making it flexible. Then, stick that bangle on the cardboard with proper distance on both sides. Using fabric fevicol or glue, wrap the bangle with pink color woolen thread forming a twisted design on it.