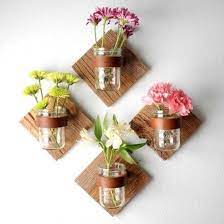 Creative Ideas For Home Decoration From Waste Materials
Many things around the house can be transformed into best out-of-waste home decoration items. They are environment-friendly and add a quirky look to your place.
Glass bottles are commonly found in every household and can be turned into table lamps or showpieces. Coloured papers, glue and varnish can be used to decorate unique bottles. Battery operated fairy lights can also be inserted in these bottles for a scintillating effect.
Wooden Boxes as Shelves
A wooden crate is a great place to store extra shoes and accessories in your closet. It's also a stylish way to display your favorite decorative pieces.
Old bangles are easily found in any household but they usually end up in trash cans after becoming tight. Reusing them to make pencil holders is a creative and useful best out of waste home decor idea.
Newspapers can be reused to make coasters, and they are a cheap alternative to expensive store-bought options. Moreover, they can be decorated with beads, sequins, satin ribbons and spray paints to enhance their beauty.
Plastic Bottles as a Vertical Garden
As environmental consciousness rises, individuals are seeking creative ways to repurpose waste materials. Home decoration is no exception. Many people are turning discarded items into unique and eye-catching decor pieces that reflect their creativity and individuality.
One of the best out of waste ideas for home decoration is to use plastic bottles as a vertical garden. This allows you to grow herbs and other small plants in the kitchen without consuming much space.
For this, you'll need several recycled bottles, a timber frame, and some rope. Make sure to only use the types of plastic that are safe for gardening.
Old Bangles as a Pen Holder
Those old bangles that you don't wear anymore can be used to make something creative and useful. A recycled bangle pen holder is an easy and fun project for older kids. It will help keep their study desk tidy and organized.
Plastic bottles are another easily available item at home that often sees dumpsters and trash cans once they become too small. Reusing them can be an effective way to save money and protect the environment at the same time. You can use the lower end of the bottle and decorate it with beads, glitters, colourful papers, ribbons or other waste materials to hold your combs or stationary objects.
Newspaper Tea or Coffee Coasters
You can recycle old newspaper or tin cans by turning them into home decor items. These DIY projects will help you save money and reduce waste. They can also be a great way to keep your kids occupied.
For example, you can turn old newspaper into a tea or coffee coaster. You can also use the paper for a wall hanging or as a gift box. You can even make a lantern with the paper.
Another creative idea is to use bubble wraps as an octopus, which is fascinating for children. You can also paint it with different colors.
Glass Bottles as a Table Light
Creating imaginative and decorative best out of waste home decor items is not only useful but also protects the environment. You can make a number of creative items at home from things like used newspaper, plastic bottles, cardboard boxes, tin cans, coconut shells and old buttons.
Using old glass bottles as a table lamp is a great way to recycle these products. You can decorate the bottles with paint, lace, satin ribbons, beads and coloured threads to create a unique look.
You can even turn a bottle into a pig to make your kids laugh or use it as a piggy bank. Moreover, you can decorate the bottle with battery-operated fairy lights to add a magical touch to your home.
Window Frames or Plastic Bottles as a Mirror
As environmental awareness is growing, many individuals are looking for creative ways to repurpose their household items. Making ornamental home decor pieces from waste materials is one such method that promotes sustainability and adds a personal touch to your living space.
Old mirrors can develop blemishes over time. Instead of throwing them away, turn them into glittering candle trays by smoothening the edges.
Ice cream sticks are another useful household item that can be reused to create a practical home decoration craft. Use them to make a pen stand by gluing them together in a square or rectangle shape.
Recycled Newspapers as a Coaster
Decorating your home can be expensive and burn a hole in your wallet. But, with a little time and creativity, you can make some eye-catching accent pieces from waste materials.
For example, you can use old newspapers to make a creative basket for storing small items. You can also use cardboard boxes, empty tin cans, glass jars, plastic bottles and coconut shells to make unique wall hangings.
Reusing regular household waste items not only saves money but also protects the environment. Best out of waste ideas are a great way to reduce waste and foster creativity in kids.
Glass Jars as a Tealight Candle Holder
Repurposing household items into unique, decorative home decor accessories is one of the best ways to recycle. These items include used newspapers, old bottles, empty tin cans and cardboard boxes. These are readily available in every household but are often thrown away as random trash.
Glass jars can be used to make tealight candle holders. The exterior can be painted with a variety of colors and adorned with ribbons, beads, seashells or glitter. Using battery-powered fairy lights inside will illuminate the jars and add to their aesthetic appeal. This is a fun craft that can help invigorate the interest of children and improve their creative skills.
Wooden Boxes as a Shelf
Wooden boxes, either rustic or painted in bright colors, can add unique style and convenient storage to modern home decor. They are also ideal for eco homes. Daily household items like used newspapers, bottles and empty tin cans are easily available in every house but are often discarded as trash. However, they can be transformed into imaginative and creative home decoration items with little effort.
Use hanging wooden crates to create a wall of extra storage in your closet, foyer or mud room. Larger crates work well as under-the-bed storage for larger items like blankets, sheets and sports gear.