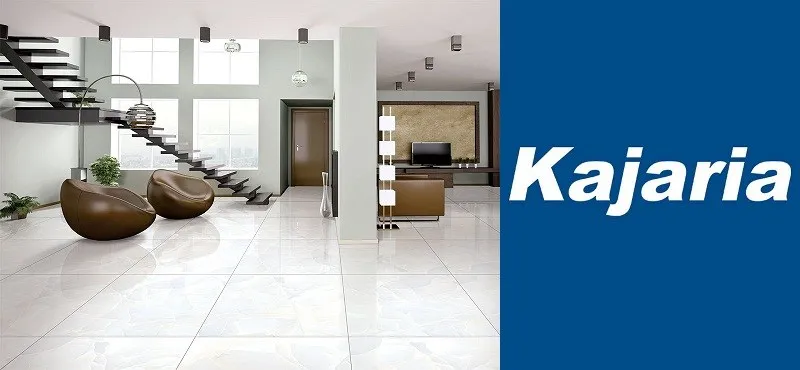 Top Five Tiles Companies in India
There are many Tiles companies in India, but some have managed to stand out and make a name for themselves. They've accomplished this on a national and international level.
H R Johnson has been in the industry since 1958, and they continue to give newer, growing tile manufacturers a run for their money. They offer lifestyle solutions through tiles, bathroom products, and engineered marble and quartz.
1. Kajaria Ceramics Ltd.
Kajaria Ceramics Ltd is the largest manufacturer of ceramic/vitrified tiles in India with an annual aggregate capacity of 73 million square metres. It operates eight plants – Sikandrabad in Uttar Pradesh, Gailpur & Malootana in Rajasthan, Vijayawada & Srikalahasti in Andhra Pradesh and three in Gujarat.
The company's products add value and refinement to your home at affordable prices. It offers over 2800 choices in ceramic wall & floor tiles, vitrified tiles and designer tiles. Its innovative designs cater to the evolving lifestyle and aesthetic sensibilities of Indian customers.
Founded in 1988 by Ashok Kumar Kajaria, the company is led by its chairman and managing director and his sons Chetan and Rishi. The management team's expertise and experience has helped the company build a strong foundation and a robust business model.
The company's annual report provides valuable information about the business, including its financial performance and operations. It also provides an in-depth analysis of the industry and the market. Ticker's pre-built Kajaria Ceramics price chart helps you analyze its performance over the long term, identifying trends.
2. Somany Ceramics Ltd.
Somany Ceramics Limited manufactures and trades in ceramic wall and floor tiles, sanitary ware, and bathroom fittings. It operates through Ceramic Tiles and Allied Products segment. The Company exports its products to Europe, Australia, South Africa, and Mauritius. Somany Ceramics has two plants located at Kadi in Gujarat and Kassar Haryana, with a combined production capacity of 40 million square meters per annum.
The brand is a household name in India and enjoys strong customer trust. Its design based on cutting edge technology in sync with the smart bathrooms of today has received many awards and accolades over the years.
Somany is well positioned to sustain its high margin and healthy volume growth aided by improving distribution network and gas price tailwinds. However, its exposure to intense competition and cyclicality in the real estate sector remains a key rating sensitivity. In addition, increase in raw material prices could lead to higher pricing pressure and lower offtake. Somany also faces competition from players with better access to finance, albeit with a higher risk profile. Overall, we maintain BUY on the stock and expect consolidated EBITDA to grow at a CAGR of 18% over FY24E-24E.
3. Grindwell Norton Ltd.
Grindwell Norton Ltd manufactures abrasives and high-performance refractories. The Company offers Bonded, Coated, Non-woven, and Superabrasives, as well as Silicon Carbide crude and grains. Grindwell Norton serves customers in India and internationally.
During the year, the company's Abrasives business took the lead in increasing prices, but in a very competitive market where suppliers seemed to be more concerned with maintaining volumes than margins, the improvement in price realization fell short of what was required to offset the cost increases. Production in the company's Bangalore plant remained steady while the non-woven project at Nagpur was completed and commissioned. The production in the company's Tirupati plant was improved by availability of power in the first half of the year.
The Company was incorporated in 1941 and is headquartered in Mumbai, India. Grindwell Norton has seven manufacturing locations (Mora near Mumbai, Nagpur, Bangalore, Tirupati, Halol near Vadodara, Himachal Pradesh, and Bhutan) and 11 sales Mumbai Plant offices in India. This company is a part of the Saint-Gobain Group.
4. Asian Granito India Ltd.
AGL is India's fastest growing Ceramic Wall & Floor Tile, Glazed Vitrified Tiles, Composite Marble & Quartz Company with a global footprint across 58 countries. Founded in the year 2000, AGL has silenced sceptics and debunked myths that a fledling company from a small town region cannot be a leader of its space. AGL has set benchmarks globally and is one of the most profitable companies in the industry.
AGL was the first manufacturer in India to produce slab vitrified tiles of size 905mm x 905mm. In order to meet the increased demand, AGL expanded its production capacity by installing a second manufacturing line and commenced commercial production from January 2005.
Asian Granito India has been recognized and awarded for its outstanding performance in the fields of Business Excellence, Brand Leadership, Gujarat's Best Corporate Citizen and Power Brand Rising Star by Fortune India. It also has an extensive clientele including Adidas, ITC, L&T, Shoppers Stop, ONGC, Reliance Industries Ltd, Airtel, Adani and many more.
5. Cera Sanitaryware Ltd.
CERA Sanitaryware Ltd is a manufacturer of sanitaryware, tiles and accessories. The Company offers a complete range of products including ceramic wash basins, bidet water, pedestals, urinals and plastic cisterns. It also provides bathroom allied products such as toilet seat covers, bath taps and showers, quarter turn fittings and health faucets. CERA has established a large distribution network and is supported by a strong after-sales service team. The Company has won many awards, including Readers' Digest Trusted Brand Survey in sanitaryware and bathrooms.
CRISIL's rating affirmation reflects the Company's established position in the domestic sanitaryware industry and successful diversification into allied building products. Further, the ratings reflect a healthy financial risk profile with robust debt metrics and healthy liquid surplus, coupled with stable operating profitability.
The Company's expansion plans in the sanitaryware business, along with the recent commissioning of a new Zamac plant for manufacturing handles and the launch of new designs, has lowered dependency on imports. Further, the Company has diversified into a broader range of bathroom accessories and launched its premium brand SENATOR by CERA in 2023.